Art Classes Manchester NH
ART CLASSES OFFER MANY BENEFITS. FOR EXAMPLE, YOU CAN UNLEASH YOUR CREATIVITY AND LEARN SOMETHING NEW. ON TOP OF THAT, YOU'LL ALSO GAIN CONFIDENCE AND CAN EVEN FORM FRIENDSHIPS WITH LIKE-MINDED INDIVIDUALS.
LUCKILY, YOU WON'T NEED TO TRAVEL FAR TO GAIN THE ADVANTAGES OF TAKING AN ART CLASS. SIMPLY READ THROUGH OUR GUIDE TO THE BEST ART CLASSES IN MANCHESTER, NH, AND SIGN UP FOR ONE TODAY!
E.W. POORE FRAMING, INC.: LOVING ART IN ALL STAGES OF LIFE
E.W. Poore Framing, Inc. may sound like a standard framing store, but they offer so much more than that. They also have an art studio in which they hold classes for budding artists of all ages. Whether you're a young child, a retiree, or somewhere in the middle, you're welcome to take a class here.
You choose between taking oil painting, mixed media/collage, or beginner & intermediate drawing. On the other hand, you may want to take one of these classes, but you aren't quite sure which one is right for you. If that's the case, they recommend taking an introduction to art class. In this class, you'll try out different artistic mediums like drawing, watercolor, and acrylic to see what you like best.
LET'S PLAY MUSIC & MAKE ART: LEARNING IN A POSITIVE ENVIRONMENT
The name says it all at Let's Play Music & Make Art; the music and visual arts programs here are great ways to explore your creativity through different mediums and techniques.
Their art programs are for individuals of all ages and skill levels. Not only will students learn about the elements of art and design, but they'll also learn some art history and discover individual artistic expression.
Art Start is for ages 6-8 and serves as a way to introduce the world of art to young children. Adventures in Art is for ages 9-12 and is where students will learn about concepts like color theory and composition. Art for Teens is for ages 12-16 and is all about enriching artistic skills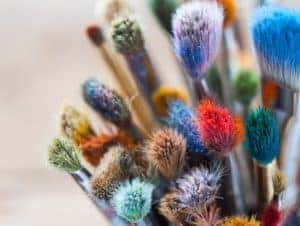 and creating works inspired by nature and the imagination. There are also adult classes in which you can improve your art skills in a fun and supportive environment.
STUDIO 550 ART CENTER: WHERE YOU CAN PLAY LIKE A KID AGAIN
The goal at Studio 550 Art Center is to "connect people and create community through the arts." It's a great place to learn something new or to play like a kid again. It's also for established artists who just need a place to work. All are welcome here in this place of joy and growth!
Teens and adults can take classes like stained glass, acrylic painting, and pottery/clay & wheel throwing. Kids can take a pottery class by themselves or with their parents for a fun evening out.
You can even host a private class party. Bring your own food and drinks and Studio 550 will provide materials and instructions for a hands-on experience that you're sure to remember for a long time.