Best Bakeries Manchester NH
There are many important food-related questions we often ask ourselves:
• What's for breakfast?
• Can I have this for lunch?
• What time is dinner?
However, one of the most crucial has to do with dessert—and that question is, "where are the best bakeries near me?" Luckily, we have the answer for you in this list of the top bakeries near Manchester, NH…
A TRADITION OF EXCELLENCE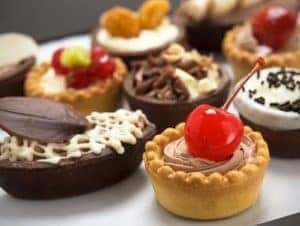 FREDERICK'S PASTRIES
 is all about excellence. In fact, that's how they've come to be New England's premier specialty cake shop since 1980.
Susan Lozier Robert purchased the bakery from her parents in 2004. She then opened two additional shops, each employed with a great staff of professionals. No matter what, you'll get incredibly fresh cakes and pastries.
Their cakes include the Banana Cream Torte, Caramel Toffee Torte, and Dutch Apple Torte. Plus, there are lots of pastries to choose from, including the Mini Dessert Platter. This comes with a variety of whoopie pies, cream puffs, and fresh fruit tarts.
FAMILY-RUN GOURMET CUPCAKE SHOP
If you're looking to support a small, local business, then visit 
QUEEN CITY CUPCAKES
. This small, family-run gourmet cupcake shop is here to make your day a little sweeter. Not only do they provide lots of treats in their shop, but they can also cater your next special event.
Their specialty cupcakes will cater to varying palates. There's the Black Forest, which is a chocolate cupcake filled with cherry pie filling. Then, it's topped with chocolate cream cheese frosting, cherry pie filling, and chocolate sprinkles.
There's also the Hummingbird Cupcake. A banana, pineapple, and pecan cupcake is topped with cream cheese frosting and sprinkled with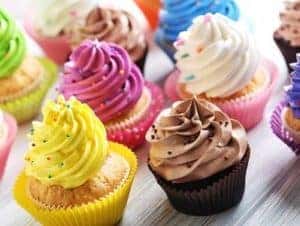 pecans.
BAKERY WITH A DISTINCT NEW ENGLAND LOOK & FEEL
TRIOLO'S BAKERY
 opened in 2012 in the town's iconic Red Barn Building with its distinct flagpole on top of the tower. Though the original wood was very old, the owners were able to make the interior safe, functional, and modernized.
Not only is the building unique, but the baked goods are, as well. You'll find everything from breads, cakes, and cookies to cupcakes, pastries, and pies. Plus, everything can be custom-ordered, so you get exactly what you want.
You can even get one of their platters for an upcoming event. There's the Breakfast Pastry Platter, Cookie Platter, and Sandwich Platter, which uses their Italian hoagie rolls.