Best Burgers Manchester NH

Let's face it: if you're a meat eater, sometimes you get that craving for a juicy burger, but not all burgers are made equal. You want your burger to be well-seasoned and perfectly grilled to your liking with your ideal combination of toppings.
From big juicy burgers with plenty of topping options to classic flat-patty cheeseburgers, the best burger joints below in Manchester, NH, will serve you well whenever that burger craving strikes.
THIRSTY MOOSE TAPHOUSE
The Thirsty Moose Taphouse bills itself as "the cure for the common bar." Here, you'll find over 70 tap lines of domestic and craft beer and a wide-ranging menu of great food.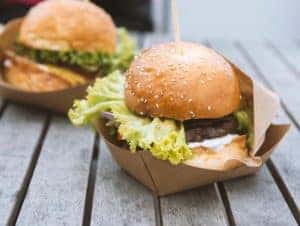 As for their delicious burgers, there are seven signature versions that vary in toppings. A couple of them are the Hangover Burger with an egg over easy, bacon, and hollandaise, along with the Burganzola that is topped with caramelized onions, mushrooms, and smothered in a combination of gorgonzola and steak sauce. Hungry yet?
RED ARROW DINER
The Red Arrow Diner was first opened back in 1922 and when current owner Carol Lawrence bought the then vacant diner in 1987, her goal was to restore it to its former community glory.
Today, the Red Arrow Diner is a favorite of locals and visitors alike, offering 24/7 breakfast, lunch, dinner, and dessert. Their handcrafted, fresh ground beef burgers are one of the stars of the menu. Their special burger bar option allows you to have any combination of toppings imaginable!
BRICK HOUSE DRIVE-IN RESTAURANT
The Brick House Drive-In Restaurant is a family-owned and -operated establishment that offers some classic American fair at a great price. Their traditional cheeseburger is known to locals as one of the best around, but if you're feeling a bit hungrier, there's the 5-ounce Big Bertha Burger and Texas Burger.
DISCOVER THE BEST BURGERS IN MANCHESTER NH!
When you're hungry and want a burger, you'll want to have the best ones around! Discover these top burger joints in Manchester, NH, and connect with them on Facebook.