Brake Pads vs Rotors


The braking system is the most crucial part of any car. That's because if your brakes don't work properly, you could get into a serious accident in Bedford, Manchester, or Merrimack.
There are many different parts of a braking system that help bring the vehicle to a stop. Two of those are the brake pads and brake rotors. We'll explain the differences in this guide to brake pads vs. rotors, so that you can fully understand how this complex system works. Learn all about them below and contact us Ira Lexus of Manchester if you have any questions.
WHAT'S IN A BRAKING SYSTEM?
The biggest parts of the braking system are the pads, shoes, and rotors. There are also brake calipers, which slow a vehicle's wheels by creating friction with the rotors. The calipers have their own components, which include brake hardware, calipers pins, and a caliper bracket.
Each component of a braking system works in different ways. However, they all play an important role in bringing your car safely to a stop.
We'll now delve deeper into two of the biggest braking parts: the brake pads and brake rotors.
ALL ABOUT BRAKE PADS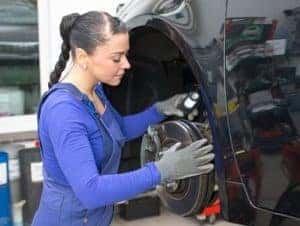 Brake pads are what squeeze and connect the rotors to slow your car down and secure it when it stops. It's the one part of the braking system that works the most, so it needs to be replaced often.
The pads are made from a flat piece of steel with a thick layer of friction material on one its sides. There are different types of brake pads, such as organic, semi-metallic, and ceramic. Each type has its own benefits, so you'll need to figure out which one is right for you.
Organic brake pads are made from either glass, fiber, carbon, rubber, or Kevlar. They're great for everyday driving, as they're soft, quiet, and easy on the brake rotors. They can wear out more quickly and are really only good in places with a pretty even temperature range.
Semi-metallic pads have about 30-65% of metals like iron, copper, or steel in them. They're very durable and can last longer than organic brake pads. However, they're more expensive, can wear down the rotors quicker, and may not function well in very low temperatures.
Ceramic pads are made up primarily of ceramic fibers and other filler materials. They're the most expensive type of brake pads. But, they're very clean and produce little noise. Plus, they provide excellent braking and don't cause much wear on the rotors.
WHAT ARE BRAKE ROTORS?
Brake rotors, or brake discs, are what the pads clamp down on to stop the car's wheels from spinning. They're mainly made from steel or iron and can last as long as 70,000 miles before needing to be replaced.
There are two major types of brake rotors: drilled and slotted. Drilled brake rotors have lots of holes in them, to make it easy for heat, gas, and water to quickly move away from the rotors' surface. This helps keep brake performance strong, to ultimately help keep you safe.
Slotted brake rotors have slots carved into the flat metal surface to help keep that heat, water, and gas away. These rotors are typically more durable than the drilled variety. Because of this, they're better for high-performance vehicles.
No matter which rotor your car has, they'll need to be replaced when you notice certain warning signs. One of them is when you hear squeaking or grinding sounds whenever you apply the brakes. They should also be replaced when you feel vibrations after braking. When you do go to replace the rotors, be sure to get high-quality ones, as anything less will overheat faster and warp more often.
LEARN MORE AT OUR SERVICE CENTER
AS YOU CAN SEE, THE BRAKE PADS AND ROTORS HAVE DIFFERENT FUNCTIONS, BUT THEY'RE BOTH ESSENTIAL TO YOUR VEHICLE'S BRAKING SYSTEM. IF YOU NEED MORE INFORMATION BRAKE PADS VS. ROTORS, THEN CONTACT US AT IRA LEXUS OF MANCHESTER.
YOU CAN ALSO SCHEDULE SERVICE IF YOU'RE HAVING ANY ISSUES WHEN DRIVING AROUND BEDFORD, MANCHESTER, OR MERRIMACK. OUR TECHNICIANS WILL GET TO WORK QUICKLY, SO THAT YOUR VEHICLE WILL BE AS GOOD AS NEW IN NO TIME.