Buy vs Lease

---
The great debate over buying a car versus leasing one has long had advocates on both sides. There are truly pros and cons to each. So, which option trumps the other?
In the end, it all depends on what you—the buyer or the lessee—wants to get out of the experience. The folks at Ira Lexus of Manchester have compiled a guide on buying vs. leasing for drivers in Bedford, Manchester, and Merrimack, MA. Read our list of buy vs. lease pros and cons, and then decide which option best fits your lifestyle. Contact us with any questions!
---
​
Making Your Financial Decision at Our Finance Center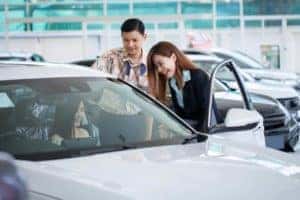 When it comes to getting a new car, you'll have two financial avenues to explore—purchasing it or leasing it. Before we get into the advantages and disadvantages of each option, let's discuss what you can expect from either payment plan.
What Buying Entails
If you choose to buy your next vehicle, you and one of our finance experts will begin by discussing your budgetary needs. Since we have longstanding relationships with many banks and lenders in the area, we're confident that we'll find a loan and payment plan that makes you feel confident.
Once you've reviewed the final terms of your financial plan, all you have to do is sign on the dotted line and hop behind the wheel.
What Leasing Entails
Your second financial choice is to lease your new Lexus. Leasing is great for those who are in need of a temporary vehicle for about two to three years. When you're ready to begin your lease deal with us, you and one of our finance experts will sit down to draft a leasing agreement that works for you.
What information is included in a leasing agreement? Here are a few important items you'll want to keep track of:
The length of your lease
How many miles you can drive each year
What you will pay at the start and finish
What normal wear and tear is defined as
Early termination terms and fees
Before you sign off on your lease deal, make sure you ask any clarifying questions to your lessor.
---
Leasing Pros & Cons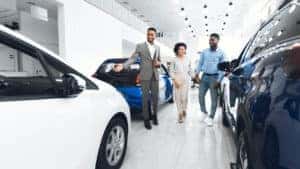 If you're in the market for a temporary vehicle that you can use between your work-from-home shifts or when you need to drive outside of your city-living situation, leasing will be right up your alley. On top of not needing to fully commit to one vehicle for the rest of your life, here are a few other advantages of leasing:
More Affordable in the Short Term: With a lease, you're not paying the full purchase price of the car—you're only covering the amount that the car will depreciate over the course of the lease. As opposed to financing, you'll have potentially lower monthly payments as well.
Makes It Easier to Upgrade to the Next Model: Once your leasing period is up, you can easily trade in your car for the next model on your mind.
Extended Warranty Protection: To ensure your vehicle stays within its trouble-free years during your lease, most leases are covered by the manufacturer's warranty. This can also mean that your repair costs may be lower or complimentary.
Can Purchase the Lease at the End: If you fell in love with your lease, you don't have to let it go. You can choose to buy it out once your leasing period is up.
Is Leasing Right for You?
On top of all the benefits that leasing can offer drivers, it also comes with a few restrictions. For instance, lessees will be subject to mileage restrictions. Often, this limit is around 12,000 miles a year, but it can vary depending on the terms of your lease. If this limit is exceeded, drivers will be charged for each extra mile driven.
Leasing also means that you're limited to non-permanent customizations. For example, if you desire tinted windows, you'd have to remove these customizations before bringing it back to the dealership.
---
Buying Pros & Cons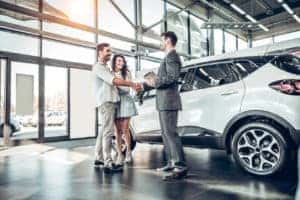 If you're interested in committing to one car for the long haul, buying may be your best option as buying is synonymous with full ownership—something you don't achieve with leasing. Full ownership means that you can drive or customize your vehicle as much as you want. The higher value you pay to purchase gives you full control over your vehicle.
Buying a vehicle is a great idea if you're interested in:
Tinkering With It: Since purchased vehicles are under no wear and tear standards, you can feel free to tinker with your vehicle as you choose to get it running as you want it.
Customizing It: Leased vehicles have to be returned in the condition that they were borrowed in. However, bought vehicles do not have to be returned at all. This means you are free to add whatever customizations you please throughout your car ownership experience.
Taking It on Long Road Trips: You are under no mileage restrictions when you purchase a vehicle, which makes them the ideal ride for long-distance trips.
Is Buying Right for You?
Just as leasing has some cons, so does purchasing. When you choose to purchase a vehicle, you will most likely be paying higher monthly payments. Plus, when you go to purchase your vehicle, you may have to put down a generous down payment.
While your payments will go away with time as you pay off your car, you will have to continue to pay long-term maintenance costs once your warranty runs out.
If you always want to drive the latest Lexus model with all the bells and whistles, leasing would be able to put you in a better financial position to pay for it than buying. However, if you have a budget for your needs, buying can be the way to go.
---
Get Started With Finding Your Next Lexus Today!
Few things are more satisfying than owning or leasing the dream car of your choice. Has our guide on buying and leasing been helpful as you consider your options for your next new ride?
If you live near Bedford, Manchester, or Merrimack, Massachusetts, give Ira Lexus of Manchester a call, and our team of automotive and finance experts will help you make the choice that's right for you. You can even schedule a test drive ahead of time for a car that's caught your eye, and we'll have it waiting when you arrive.
---
The staff is extremely friendly and professional. They definitely make you feel appreciated and important. Service department has many perks like loaner cars, car was washed and vacuumed. I highly recommend them for any sales or service needs.
Stephanie was phenomenal from start to finish. She was a pleasure to work with, extremely professional, very friendly and knew her stuff! Overall it was an amazing experience. My daughter is buying a Lexus from her also. Pam my Finance person was fantastic. Very helpful, responsive and the process was pain free!! 5 stars!!!
Laurie and the greeters provided prompt, responsive and professional service to all of my inquiries and requests. As usual the Lexus staff exceeded all expectations.
Bradley was great to work with. I recommend this dealership for your Lexus services. They were thorough and detailed on what needed to be done.
I had absolutely the best experience with both Barry Chase and Aaron Faucher~ Service Advisors at Ira Lexus Service Center. They were extremely professional, knowledgeable, courteous and treated the customer as a friend… a rare commodity today. Thanks again!!
Left my car for it's 5000 mile service. I love being greeted by Barry. No matter how hectic it is, he is always hustling with a positive attitude to get everyone where they need to be. This is the third Lexus I have purchased from Ira. The service I always receive is what keeps me coming back.
Today was my usual experience with Ira Lexus of Manchester—GREAT!!! The Service Department was a little short handed—who isn't—but Josh and Laurie handled everything and everyone with ease. Guess I got the "A" team!!! Always nice to be greeted by Kevin and Barry. It's like a welcome home. I'd also like to give a shout out to whoever washed my car. Such a special perk! It looked like it belonged back on the showroom floor! Many thanks to all!!!
As always Laurie goes above and beyond for service and makes sure our family is safe to hit the road. Laurie is a great benefit to Lexus and I am very thankful for her!
Professional and efficient. Job accomplished as promised. Told it would take one and a half hours. It was 40 minutes over the estimate it would've been nice to have been notified that there was a delay instead I was presented the bill and thanked for coming in with no apology or discussion about the extended 40 minutes delay. Time is valuable and a courteous I'm sorry it took so long would've gone a long way. I was at Ira Manchester Toyota in Manchester and again a 30 minute extra weight on a car being serviced no mention of why no ...
Had our RX350 serviced today with Aaron as the advisor. He communicated about additional work that should be done while identifying what needed to be done ASAP and what could wait until next service. Appreciate his assistance and candor. Barry in the drop off/pick up area was simply delightful. A wonderful ambassador for the dealership.
As always service is outstanding . Never have to wait long . Always been provided a nice rental , easy to deal with all around good experience!
I had maintenance service on my RX350 today and things were a little hectic and some delay experienced and it's because the dealership is undergoing exterior building construction required by Lexus which has resulted in one of the two service bay lanes is closed due to construction equipment. Thus customers who are complaining should take that into account rather than condemning the dealer. I have been a multiple Lexus vehicle owner over the years with this dealership and have had excellent service there. Laurie Beauchemin is an outstanding service advisor and is a joy to do business with. In ...
Outstanding service provided for my Lexus RX350. Treated as a valued customer from beginning with greeter and recording appt with Barry and then with service advisor Laurie Beauchemin who has been our advisor for years. Then receiving a through and professional vehicle service by technician Timothy Thirkell. Always friendly and warm welcome.
Great experience! Laurie was so friendly and helpful. I thought the work on my car would be longer but it was finished early! Great communication and overall a fantastic experience!
Truly attentive and service oriented staff. Jordan is very professional and low-key, and took upon himself helpful details like returning my rental car. He and the others, made for a relaxed and comfortable environment. I got a great car from a great dealership.
I have been going to this dealership for 18 years. I wouldn't go anywhere else. Been dealing with Joe forever! A true gentleman!!! Josh Marquis is a sweetheart. Very patient and very kind. And who doesn't like to be greeted by Barry!!! Welcome back Barry! You were missed.
One of the best car dealerships I've ever been to! I leased my first Lexus here and went in for the 5K service. Barry and Josh were great! They were both very friendly and helpful.
Hi Lexus, To whom it may concern, I just have my Lexus ES 330 2005 service at Lexus service Department. The Supervisor Henry Yee is knowledgeable and doing exactly what he should have done. I was informed about some issues on my car and recommended to have it fix for safety manners . Mr. Yee represents for Lexus in professional way, showing his qualifications, knowledge and kindness to the customers. If you have 10 stars is extremely satisfaction I would give Henrry Yee 11 stars 🌟🌟🌟🌟🌟🌟🌟🌟🌟🌟 and Lexus 10 stars for everything! 💫💫💫💫💫🌟🌟🌟🌟🌟 Thank you so much Henry Yee I am very happy for what you have done ✅ ...
I took my car in after an alert that there was a malfunction in the AWD system. It turned out that mice had nested in the engine compartment and ate through a wiring harness. Henry Yee was my service rep and he was great. Henry was very patient and attentive while listening to my concerns and handled the entire repair process with great care. Thank you Henry, and a shout out to Chris who did the repair!
Service was provided today by two professionals: Laurie and Barry who gave us top notch service! The promised time was met and we were comfortable waiting.
Staff at IRA Lexus of Manchester are excellent in making car service experience feels very special. They are very respectful and plesant. They treat my car with extreme care evey time.
Great place, fast, clean, predictable. Happy to go back. People were all friendly and helpful. Inside car drop is always great. They cleaned the car up nicely upon return.
Josh was my service representative. He was very professional, listened attentively to my questions and described very well what was going to be done and how long the service would take. Car was ready on schedule. Very pleased with excellent service which started with a friendly greeting from Barry as soon as I pulled into the service center.
Service agent Shawn was exceptionally professional, knowledgeable and clear communicating issues, progress and results. I would consider buying a new Lexus with the confidence the service is top rate.
Always great service. Josh Marqui is the best service advisor I have ever dealt with. Kevin and Barry the service valets are also the greatest. Love IRA Lexus.
I bought my Lexus 450RX here and also have it serviced here. The service staff is beyond pleasant-and it's not an act! They are genuinely nice folks. I've never had anything sprung on me. The do what they say, and are pretty good as far as honestly estimating how much time things will take. I always get a loaner when requested. However, the waiting area is lovely, with free drinks and snacks!
Very pleasant experience. Jordan was very knowledgeable and listened to our wants and needs. The General manager and the finance departments were both easy to deal with. Overall a good experience
Have been coming in for about 15 years and Laurie B is the reason. So professional, so knowledgeable, so kind. The best!! Also Barry and Kevin deserve a thank you for the wonderful service they provide.
Always great service weather buying a new car or having your existing car serviced. The service department is always accommodating to your needs and making sure your car is in great condition.
We have been dealing with this organization for multiple years and have never been disappointed. This time we were buying replacement new vehicles. Alex in sales was excellent. Went above and beyond the call of duty. Came to our home to resolve questions we had about programming of the electronics (garage door opener, etc). Very reasonable costs when you factor in the quality of the product and service. (Barry- the receptionist in service always a delight.) Kudos to the non front "back room"people who make the front folks look great as well.
This is my 4th Lexus. I wouldn't own anything else. Dealership and staff are knowledgeable, friendly and helpful. Waiting area is great. My service advisor Ben Kubat makes service calls a breeze. Kudos!!
Laurie gave me an appointment and had the loaner vehicle ready to go. She is the nicest person who seems to truly care about satisfied customers. It is truly a pleasure to work with her as I know our service will be perfect
My experience with Shawn was excellent. He kept me on top of what was being done and called to discuss recommendations to add to my scheduled maintenance. Also a shout out for Barry. Kind and friendly greeting and goodbye!
I gave 5 stars for purchase because we've purchased 2 vehyin the last 5 years from Ira Lexus. Great communication as far as letting you know when certain things will need service. Concern for safety is clear with Ira service. Laurie is so great to work with. She genuinely listens to each and every concern and helps to schedule your vehicle efficiently. Very pleased!!!
A 1 service 5 star Laurie My service manager Was awesome search great help Me to save me as much money as I can The mechanic that worked on my car was great help to talk to me and tell me that I need to only do this To save me some money awesome service thanks again 👍
I give them a 10 I have bought and leased several cars from this dealership Nigel the general manager is the best. Great financial closing as well as great Service thanks Josh .
Excellent experience from start to finish! I was welcomed by Barry with a warm pleasant smile, he made me feel comfortable from the start. Josh was awesome as well! He made sure I was settled and comfortable while I waited for my car. Best part of it all? My car was cleaner when I left than it was when I arrived. They washed the outside and vacuumed the inside, I was blown away! I left Lexus of Manchester with a pep in my step!
Met Ben who was very professional and polite. I told him my problem RX 350 he reassured me he would look at it. He was excellent in keeping me posted as to what they found and what was needed. Very happy with Ben. He was my hero!
Ben the service manager was very professional and Barry the driver was also professional. My experience was awesome The work done on my car and the recommended repairs were appreciated
I brought my Lexus RX 350 with over 100,000 miles on it to the dealership for a major update service. Laurie in the service department provided exceptional customer service, the repairs were done quickly, and the car look brand new when I picked it up a day later. I highly recommend Laurie and IRA Lexus.
There service and customer care are great. They pay attention to detail and explain thoroughly, the service provided. I would highly recommend IRA Lexus to everyone looking to purchase a new vehicle
Josh was great to work with and Geoff was awesome from finance department. Car is great and looking forward to shopping again. Thank you very much
I got my maintenance done this past weekend and Laurie helped me get through the process smoothly. She even helped me with the recall that I totally forgot about. Great job Laurie, thank you for everything.
Ben was great. Barry wonderful as always. All excellent as it has always been for my many visits to IRA of Manchester. Great dealership. Very clean and professional.
My rx 350 was due for state inspection and even though no repairs were needed, they took extra good care of my vehicle. It was washed a d vacuumed. Looked great and I didn't have to wait for a long time, maybe 45 minutes.
The technician was highly professional and very attentive to details. The truck is awesome like a brand new. The advisor was top notch and explained all that happened and why.
The service dept. always goes beyond and above. Super clean areas and the Sevice advisors are very helpful. The loaners are new and we're very satisfied as always. I've noticed that the repair facility is never too busy which is a testament to the quality of the Lexus product.
Shawn did a great job managing my service appointment, went out of his way to insure my satisfaction. Waited for the service in nice area, job done quickly within time projected.
The customer service was exceptional as usual. Everybody is always professional and friendly . I'm always very satisfied when I leave with the work that was done.
I usually deal with Joshua. As usual, he is efficient and on the ball. I feel very comfortable going there. This is my third car with this dealership.
A real pleasure to work with the caring and efficient folks at the dealership. Everything went extremely smooth and we were thrilled with the outcome
Excellent service. Very friendly folks respectful and trying to help you in any aspect of car businesses. Facility is very clean and modern. Will be here when need a new car.
Service my car was easy and comfortable as Always. Drop off was less then 5 minutes pickup was the same. Was notify by text and call whenever required
The service department is a pleasure to deal with, from the welcoming associate to the excellent service advisor. Laurie takes pride in providing great personal service. Comfortable waiting area!
My advisor Russell was very helpful with explaining what needed to be done. Services were completed in a timely manner which is much appreciated thank you.
I was very happy with Stephanie, she was awesome! She helped me get into the vehicle I was looking for, and Geoff in financing was very good also. Both were knowledgeable and couldn't have been nicer!! I would definitely go back for next car!!
Very friendly and knowledgeable group of people. Expert Work was done quickly. Nice Clean environment . They go out of their way to make your day!!
IRA Lexus in Bedford never fails to excel. From the sales to service, still satisfied 100k miles later. There is no doubt my next car will be from IRA lexus
First time buying a Lexus and my wife and I were overwhelmed with extreme customer service. Way over the top from Alex, who never once pressured us nor pushed us into something we didn't want or need. She took the time to ask us what we wanted before looking at a vehicle, then directed us accordingly. Highly recommend this Lexus dealership to everyone.
Ten days after buying my used vehicle I heard a loud squealing noise. I also noticed damage that I hadn't previously seen. All was fixed free of charge with no hassles. I got a 2020 loaner car to drive for my convenience. Management and service department were excellent!
I'm extremely happy with the purchase and servicing of my Lexus RX 350, highly recommend Ira Lexus , will definitely buy from them again! Great attention to detail.
Salesman was great not pushy, helpful and very nice. The buying process was very very long.. overall a good experience I'm hoping the car is reliable and lasts
Service advisor Ben did a great job explaining everything and kept in touch throughout the process. He is very knowledgeable. I would recommend him and the dealership.
Took my car to the dealership for a recall. It was my first visit to Ira Lexus. Staff was friendly and helpful. The work was done quickly.
Great dealership. Great customer service. Had a vehicle for 6 years. Always treated with professionalism and respect. No pushy salesmanship that borders anything near what I have seen
Laurie B , our service advisor, was very professional, friendly, and knowledgeable. She spent extra time to address all our concerns. We will definitely request her in the future. She is certainly a major asset to Ira Lexus!
We bought a used Lexus RX350. Our salesman, Lucian made the process seamless and painless! We were so happy to deal with such a great guy! Highly recommend him if you're looking to buy!
Service Advisor Laurie B. is truly outstanding and the primary reason I continue to utilize this dealership for my Lexus buying and service arrangements. Service department is exceptional as well as sales.
After contacting Lexus for the airbag recall, they had my car flatbed towed to and from Ira Lexus in Manchester, NH. This is the closest Lexus dealer and is over 150 miles away. Everyone I spoke with was courteous and professional, and knowledgeable of my service. I had my car back in less than 36 hrs. The service was performed along with a courtesy inspection of several components. Everything was free. Thank You Ira Lexus and Russ Oulette!
Laurie was great as always, she is an asset to IRA Lexus, great service from the people at the Manchester/Bedford office. I will recommend them every time
LAURIE Beauchemin and Ira Lexus make a great team. very pleased with our service and care of our vehicle. Also had my car detailed today outstanding job. Thank You.
We had both cars serviced for regular maintenance and recalls using IRA's valet service. Dawn was excellent and as always exceeded my expectations. I like that we were kept informed of the progress of the service being performed on our vehicles, having the cars returned cleaned inside and out, the advice given to do the state inspection service due next month saving us a trip in and the discount available on the fall for new tires needed before winter sets on. I always let others know about the exceptional service at IRA.
Laurie was excellent as always. Exceeded my expectations as always. Thank you for continued exceptional service. I wouldn't go anywhere else for service or a new car.
I do have one complaint. I purchased this Lexus because I assumed it had all the bells and whistles I wanted.However, when I tried to use my remote starter and it didn't work, I was told I had to pay $8.00 per month to activate it. That shocked me to my core. To purchase a $50,000 vehicle then get nickeled and dimed over it. You can get a Honda and it automatically comes with it. I am not happy about that. I'm embarrassed to tell people that.
As always Dawn kept me informed well my car was being serviced. Awesome customer service which is hard to come by. I will continue to have loyalty to the dealer ship.
Lexi was my service consultant. She kept me informed at every turn. Car was detailed and everyone was extremely friendly and helpful. Couldn't have had a better experience. This is my second Lexus from Ira and my 2010 service was the ver y same. Keep it up. I appreciate the service department more than anything.
As always, pleasant and satisfying experience - so great to have a dealer I can trust!!! Laurie is the very best advisor to work with
The service adviser Dawn is very knowledgeable, honest and will work with you on what work is necessary and what could wait. The service technicians are very through and efficient. Their main goal is providing customer satisfaction and excellent service. I give them 👍👍
I went in to get the state inspection for my vehicle. I received fast, friendly service as usual. Plus, my vehicle was given a car wash and looked great.
Used their valet service to pickup and drop off my car. Good experience. Driver disinfected the car before giving it to me. Lexi kept me informed on the work being done and the status of the repairs. Buying a car here and the Service provides an excellent experience.
Dropped off my Lexus @ 11:30am and let the service rep know I had an appointment mid afternoon and needed my car ready by 3pm. My car was ready by 2:30😁👍. Thanks for being so accomodating to my schedule.
Even when they are short-handed, their customer service is great. Laurie always welcomes us back like old friends, finds out what we need, advises us as to what to expect and what should be done, and gets us back on the road with a loaner while the work is being. She updates us during the day via text or email, and let's us know immediately when the car is ready. We return to her smiling face and have our serviced car, washed and vacuumed, presented to us. It's been like this for years, and we look forward to ...
I had a great experience at IRA Lexus this past week. Laurie Beauchemin, the Service Advisor, explained quite thoroughly the work to be done on our Lexus. Her customer service skills are top notch.
Service is always speedy and effective. Staff are friendly, courteous and keep me well informed. Waiting area is spacious and comfortable. This is the fourth car we have purchased and had serviced here.
Always a great experience. Courteous staff, attentive and accommodating! I've been with them for over 10 years and I'm sure I will be saying the same thing in 10 more!
Excellent service Came in twice to pick up the car and to pick the wheels Fast and accurate on times of pickup arriving. Friendly polite service.
Always receive great service. I particularly appreciate Laurie Beauchemin who is always responsive and capably addresses any questions or concerns I may have regarding maintenance of my car.
Laurie did a great job getting me in and out with Quality Service. I will always service my car here. Everyone is always nice and will help you with your needs. They answer your questions and explain why the price was what it is.
Joe was amazing to deal with Nigel and Anita were a pleasure to deal with. We will be purchasing more cars here in the future and recommending them to family and friends
Great service - You don't even have to leave your house, they pick up and wash your vehicle with any service. Couldn't ask for more.
I had a great service experience at IRA Lexus in Bedford NH. Laurie, as usual, was a great advisor going above and beyond to facilitate that everything got done efficiently and updated me explaining the process over the two days. Having a loaner was helpful to decrease the inconvenience of not having a car when still needing to work. The facility and car were spotless and the sanitization process made me feel very comfortable knowing that the dealership cares just as much about my safety and health as that of my car. Would definitely recommend and return as a loyal ...
We had a state inspection performed on our Lexus HS 250. All service was performed in a timely manner and the vehicle washed. Due to the COVID-19 pandemic, Lexus service went above and beyond by disinfecting the inside of our vehicle as well. Josh and Barry are always pleasant during our service visit! 😊
Excellent customer service, and always quality repairs. I have a 14-year old Lecus and they have done a super job maintaining it through the years.
The advisor was helpful during the drop off and pickup. The work was completed and well done and the car was ready before the estimated time
Well done in preparing the area for social distancing. I felt safe while my car was getting its check up. They vacuumed front and back and washed it too. I am impressed with Lexus of Manchester, NH
This was my first regular service for my CPO RX...booked online and everything went very smoothly (despite the pandemic situation) Very pleased with the service and my service managers thoroughness, and also reasonable price for NH inspection sticker....would recommend
Thank you for a seamless visit / experience. I was unaware of the two hours needed for the repairs and Dawn offered up a loaner for the day.
Great place to buy a Lexus!! They are very easy to deal with and have great people !! I have bought a lot of cars in my life and they are by far right on top.
The service was above and beyond welcoming and professional. A breath of fresh air in this day and time. Truly impressive. My experience was good from start to finish. Thank you
Outstanding service at Lexus if Manchester Easy appointment scheduling Service is fast and efficient Great waiting area Text updates are great Fantastic Complimentary car wash Very satisfied
---