How Long Do Car Batteries Last

The battery is one of the most important parts of your car. Without any battery power, your vehicle won't start, leaving you stranded near Bedford, Manchester, or Merrimack NH.
It's good to take note that a car battery typically lasts four years. However, that length of time can vary, based on a number of different factors. We'll go over those below, along with some warning signs that your battery is on its way out. Learn all about car batteries below, and contact us at Ira Lexus of Manchester if you have any questions or to schedule battery service.
FACTORS THAT AFFECT NORMAL CAR BATTERY LIFE
While we said that a car battery lasts about four years, that's usually under "normal" conditions. Normal conditions include the right temperature and humidity, going through full charge cycles, and not providing power for a lot of accessories.
However, these conditions aren't too realistic. Many people live in places with very cold winters or extremely hot summers, which can affect battery life. Plus, if you often take short trips, that doesn't give the battery enough time to fully charge, thus weakening its power. Between cell phones, MP3 players, and the like, our accessories are constantly being charged, which can drain the battery.
SIGNS OF A FAILING CAR BATTERY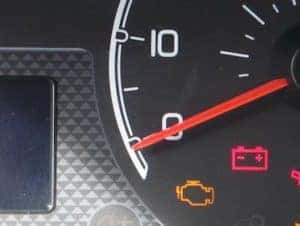 Now that you know what can shorten a car battery's life, it's important to recognize when you may need a new one.
There are several ways to determine when your battery is failing, including:
Slow engine crank: If it takes longer than normal to start the engine, then there could be an issue with the battery.
Bad odor: If you notice a rotten egg smell, then that's sulfur, which is caused by a battery leak.
Swelling battery case: Excessive heat could cause the battery case to look bloated, which would decrease the battery's life.
Low battery fluid level: A car battery will usually have a see-through case, so you can see the fluid level. If the level is below the lead plates (or energy conductor), it's usually caused by overcharging, and the charging system will need to be tested.
Check engine light: This light appearing on your car's dash could mean several things. There could be a problem with the battery or you might need more coolant. Either way, if you see this light, then have your vehicle looked at as soon as possible.
Our Expert Technicians
If your car battery has any issues, then head on over to our service center. Our technicians have years of experience working on all types of batteries. As a result, they can determine if your battery needs a simple repair or a complete replacement.
If it has to be replaced, we'll give you a brand-new one that fits perfectly inside your automobile. We'll also work quickly and efficiently to get you driving in a well-running machine in no time.
Plus, we offer various service specials for your convenience. These can include everything from battery tests to oil changes and tire rotations. Contact us to learn what the latest specials are.
SCHEDULE CAR BATTERY REPLACEMENT TODAY!
If you need a car battery repair or replacement near Bedford, Manchester, or Merrimack, then schedule service at Ira Lexus of Manchester. Supply us with information about your car, and we'll confirm a day and time that work for you.
Don't wait. SCHEDULE CAR BATTERY SERVICE today!