How Long Does It Take to Rotate Tires?

When drivers step into our service department at Ira Lexus of Manchester, one of the most common questions we receive is "how long does it take to rotate tires?" The professionally trained technicians of our service center can rotate your tires in under one hour.
This is a popular inquiry because the regular upkeep of your vehicle's tires is important to the overall control of your car. With this in mind, we've put together this handy guide to help Bedford, Manchester, and Merrimack drivers learn about the length of this important service procedure.
Continue reading to discover more or skip to scheduling your tire rotation right here online.
Tire Rotation Length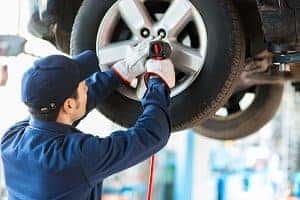 Tire rotations can be performed at home; however, we recommend bringing your vehicle to our dealership for service. Luckily, the professionally trained technicians of our service center can rotate your tires in under one hour. Even better, our state-of-the-art equipment and tools provide notable vehicle care.
Now that you know how long it takes, here's another question: How often should tires be rotated? While this answer depends on several factors, most experts suggest you rotate your tires between 7,000 and 8,000 miles or every six months.
Additionally, regular tire rotations allow all four tires to wear evenly, creating a smoother driving experience. Plus, if the need arises to replace your tires, you'll be able to purchase them all at once.
If you are ever unsure if it's time to schedule a tire rotation, don't hesitate to ask one of our service technicians.
Benefits of Tire Rotations


Did you know your car's front tires carry about 60% of the vehicle's weight? In addition, they are also more likely to feel hard turns. Regularly rotating your tires evens out the tread wear acquired by daily driving, thus lengthening the life of the tires.
That's not all. Here are some additional benefits of tire rotations:
Keeps your tires uniform: Even tread wear keeps the tread depth on tires uniform. This can help keep handling and traction consistent across all four tires.
Decreases noise and vibration: Tire rotations can reduce vehicle vibrations and road noise that uneven wear may cause.
Balanced handling and traction: Tire rotations help maintain traction and preserve better handling, which is particularly important when roads are slippery from snow or rain.
Sounds pretty good, right? Schedule your tire rotation today and have your wheels feel as good as new.
How to Rotate Tires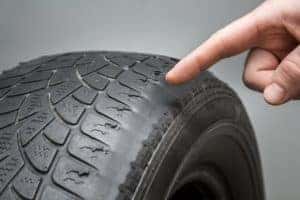 As mentioned earlier, we suggest bringing your vehicle into our service center for tire rotation maintenance. However, it's still beneficial to learn the basics, so let's go over some key factors of what a tire rotation entails.
Tire Rotation Patterns: Most vehicles follow one of three traditional rotation patterns: forward cross, x-pattern, and rearward cross. Each pattern determines the direction in which the tires should be rotated.
Checking for Damage and Uneven Wear: Checking tires for damage and uneven wear is easiest when your vehicle is raised off of the ground. Our auto technicians will place your car onto a lift while performing the tire rotation, giving them a greater view of all four wheels.
Those are just some basics. Stop by our service department to learn more!
Schedule an Appointment with Our Service Center
If you're a driver in Bedford, Manchester, or Merrimack and in need of a tire rotation, perhaps it's time to visit the service center at Ira Lexus of Manchester.
Stop in today to get started! We look forward to assisting you! Contact us today!