How To Check Transmission Fluids

The transmission is one of the most essential systems in your car. Without it, you wouldn't be able to send the right amount of power to your wheels to drive at any given speed. Whether your car has an automatic or manual transmission, you'll find that transmission fluid is vital to keeping it running the way it should.
If you've been wondering how to check transmission fluids, our team at Ira Lexus of Manchester is here to show you how. Drivers near Bedford, Manchester, and Merrimack can use this handy guide to ensure their fluid is up to par. CONTACT US TODAY with any questions.
WHAT DOES TRANSMISSION FLUID DO?
Much like the oil in your engine, transmission fluid lubricates the moving metal parts in your transmission, so friction is minimal and everything runs like clockwork. If you drive automatic, the fluid also serves as a coolant to keep the transmission from overheating and a viscous fluid to transmit power from the engine to the transmission.
So, how often should it be changed? It's different for every car, and you should check your owner's guide to find your manufacturer-recommended interval. Manual transmissions usually need a fluid change every 30,000 to 60,000 miles, while automatic transmissions can need new fluid every 60,000 to 100,000 miles.
AUTOMATIC TRANSMISSION FLUID CHECK
If you've ever checked your engine oil, you'll find that checking automatic transmission fluid is very similar. You can start by looking under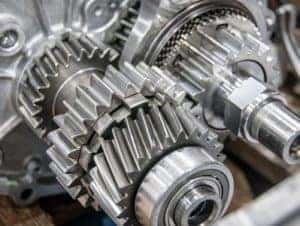 the hood for a dipstick handle sticking out from your transmission. While the car is running, pull out the dipstick and examine the fluid.
It should have a pink hue and be nearly clear. If it looks cloudy or burnt or feels gritty, have a technician drain and refill your fluid. If the fluid quality checks out, wipe the dipstick clean and reinsert it for a couple seconds. Then, pull it back out and check the fluid level. If it doesn't reach the "Full" line, top off your fluid and take care not to overfill it.
CHECKING MANUAL TRANSMISSION FLUID
Checking manual transmission fluid is a bit different. You'll need to start by raising your car to access the plug in the bottom of the transmission. To begin with, park your car on a level surface and set the parking brake. Then, use a car jack to raise your car and jack stands to keep it secure.
Under the car, find and remove your transmission fill plug. The fluid level should come to the bottom of the hole—any higher, and it would pour out from the hole when the plug is removed. If the fluid level is too low, you can add more fluid until it starts pouring out. Then, plug up the hole and lower your car back to the ground.
SCHEDULE TRANSMISSION SERVICE TODAY!
WE HOPE YOU FOUND OUR GUIDE ON HOW TO CHECK TRANSMISSION FLUIDS HELPFUL! IF YOU'D RATHER LET THE EXPERTS HANDLE IT, FEEL FREE TO SCHEDULE A SERVICE APPOINTMENT AT IRA LEXUS OF MANCHESTER. WE CAN HELP MAKE SURE YOUR FLUID LEVELS AND TRANSMISSION CONDITION ARE IN GOOD SHAPE FOR YOUR NEXT DRIVE IN MERRIMACK, BEDFORD, OR MANCHESTER!