Lexus Certified Pre-Owned Manchester NH

Manchester, NH, is a charming city on the banks of the Merrimack River. The area is home to plenty of things to do and see, such as the Currier Museum of Art, which is home to Frank Lloyd Wright's Zimmerman House. No matter where your adventures take you in the area, you'll need a great car to get you there. You'll find plenty of top quality options at the Lexus Certified Pre-Owned dealer near Manchester, NH.
WHY BUY CERTIFIED PRE-OWNED?
Our selection of CERTIFIED PRE-OWNED LEXUS vehicles are in a league of their own when it comes to used vehicles. Our team hand-selects each model that is worthy of the "L/Certified By Lexus" title and puts it through rigorous testing to make sure that it's up to our strict standards.
Each Certified Pre-Owned Lexus on our lot near Manchester is no more than six years old, and none have been driven for any more than 70,000 miles. Before we even inspect them, they're already the best of their kind.
Next, we'll check each car's CARFAX Vehicle History Report™ for potential problems, and when you come to purchase a vehicle, you can take a look at the report, as well. Next, they'll be meticulously inspected in a 161-point inspection conducted by one of our expert Lexus-certified technicians.
Any flaws will be repaired to meet Lexus factory standards, so the car will look and drive just as it did when it was brand-new. Any repairs are made with only certified Lexus parts, and even paint chips and any other surface flaws will be restored to like-new condition. We'll also thoroughly clean and detail the vehicle, so it'll truly shine the way a new car does.
LEXUS CERTIFIED PRE-OWNED BENEFITS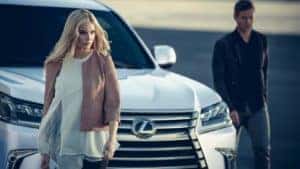 Not only are you getting a quality car that's been THOROUGHLY INSPECTED for any flaws, but you'll also get a variety of different perks that aren't offered with a regular used car. For two years or 20,000 miles of ownership of your vehicle, you'll be entitled to complimentary scheduled maintenance appointments at our service center at our dealership near Manchester for no additional charge.
During these appointments, we'll provide your vehicle with an oil change and thoroughly check all systems and parts for wear and tear, so we can fix problems before they cause expensive damage. These appointments are the best way to keep your car in excellent shape for years into the future.
You'll also receive an unlimited mileage vehicle warranty up to six years, as well as Lexus customer care benefits such as 24-hour roadside assistance and dealership amenities, such as a Lexus loaner car while we take care of any qualifying repairs on your vehicle.
VISIT THE LEXUS CERTIFIED PRE-OWNED DEALER NEAR MANCHESTER NH
Are you ready to discover a Certified Pre-Owned Lexus model that you'll love for years? Begin by taking a look at our inventory, which is fully listed on our website for you to browse. Let us know when you see something you like, and we'll reserve a date and time for you to TAKE A TEST DRIVE.