Lexus Dealer Manchester NH

You're looking for a Lexus dealership near Manchester, NH, you say? Well, then, look no further; you've found it. Welcome to Ira Lexus of Manchester, your premier local Lexus showroom. We're located at 18 Kilton Road in Bedford, NH, which is merely a 14-minute drive away from Manchester. Simply hop on I-293 South for a few miles and then take NH-101 West. It's convenient!
And, if you're looking for a quick bite to eat along the way, we'd recommend The Foundry Restaurant. The Foundry, located in Manchester, is actually New Hampshire's largest certified farm-to-table restaurant. It's the type of place where you can eat locally sourced provisions and sip on delicious spirits all day long.
WHAT MAKES THIS MANCHESTER LEXUS DEALERSHIP SO SPECIAL?
High-End New Lexus Inventory
We carry all the best models, such as the Lexus ES 350 and the Lexus GX 460. There are a few simple ways that you can browse our new Lexus inventory at your convenience, primarily on our site or in our showroom. On our site, you'll find resources like reviews and comparisons. In our showroom, you can take a tour with one of our knowledgeable customer representatives by your side.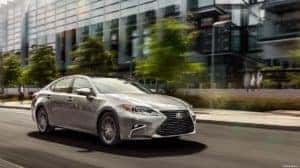 Competitively Priced Pre-Owned Inventory
You'll get the value that you deserve when you shop here. Our affordably priced used car inventory includes options from Lexus, as well as tons of other makes: Volvo, BMW, Cadillac, Chevrolet, Acura, Subaru, Toyota, Scion, INFINITI, Honda, and many others.
L/Certified by Lexus: CPO Program
This certified pre-owned program includes a 161-point inspection, an unlimited mileage vehicle warranty, and peace of mind.
State-of-the-Art Lexus Service
Our technicians will use innovative techniques and tools to fix your car. The experts at our service center can take care of practically anything that's going on with your Lexus, regardless of whether it requires maintenance, repairs, replacements, customizations, upgrades, etc.
Authentic Lexus Parts & Accessories
If you'd like to do it yourself, you can order the parts online. Simply click on the Service and Parts tab, and then navigate to the Order Parts page. It's so convenient!
Plenty of Money-Saving Specials
This is how you turn a great opportunity into the chance of a lifetime.
Streamlined Financing Process
Finally, automotive financing, but without all the headaches and stress. If this sounds appealing, you can fill out an application to get pre-approved for financing today. By doing this, you'll save yourself tons of time and energy later. We'll get back to you ASAP, once we process it all.
Our Incredibly Dedicated Team
It all starts with Ed Stockel, our brilliant general manager. Over here at Ira Lexus of Manchester, our team members are the ones who truly make a difference; they really do.
We encourage you to come down to our Ira Lexus of Manchester showroom to experience a level of customer service that you've never experienced before. It's time you finally treated yourself.
THE LEXUS STRIKE OUT HUNGER PROGRAM
That was the good news. Now, here's the great news: Not only are we intent on providing you with a bunch of high-quality, affordable Lexus options, but we're intent on doing good in our community, too.
That's why we're partnering with NESN (New England Sports Network) and The Greater Boston Food Bank to bring our LEXUS STRIKE OUT HUNGER PROGRAM into its second year. Over the course of the entire MLB season, Lexus will donate $50 to help combat hunger every time a Red Sox pitcher strikes out the other team's hitter. Here's some math…
Hypothetically, over the course of 162 games, you'd have a minimum of 1,458 innings (162 x 9). If a Red Sox pitcher was able to strike out three opposition hitters over the course of 1,458 innings, that'd be up to 4,374 strikeouts (1,458 x 3). At $50 dollars a strikeout, that's $218,700 straight to charity (4,374 x 50).
Wow, that's amazing! Of course, it's also completely unrealistic, but you can dream, right? Dream on.
Contact Us Today to Ask Questions or Schedule an Exclusive Test Drive!
You can call us, chat with us on our website, or stop by our location near Manchester today. Thank you!