Lexus ES 350 Lease

Luxury sedan seekers in Bedford, Manchester, and Merrimack may be interested in the Lexus ES 350. After all, it has lots of power, style, and features.
At Ira Lexus of Manchester, you can either buy or lease this impressive automobile. We'll tell you more about the car below along with why leasing it may be the way to go.
Read through our informative guide and don't hesitate to contact us if you have any questions. Skip to browsing our current Lexus ES Lease offers here.
BENEFITS OF LEASING AN ES 350
There are many reasons why LEASING A LEXUS ES 350 may be better than buying one. First, a lease makes it easier to upgrade to a new model. Since a lease period usually lasts three years, you can trade in your current ride for a newer one and always get the latest technologies.
A lease usually equates to lesser monthly payments since you're only paying for the car's depreciation, rather than its entire purchase price. Since you'll be paying less toward the principal, you'll be paying less interest, too.
LEASING A LEXUS ES 350

If you think that leasing an ES 350 is the way to go, then visit the experts at our finance center to get things started.
We'll guide you through each step of the leasing process, starting with miles. You'll need to think about how many miles you drive each day to determine your yearly mileage number. Whether you opt for 10,000 or 15,000 miles a year, you'll want to select the right option to avoid overage fees.
We'll then go over the various performance protection plans that we have available. They include:
Prepaid Maintenance Plan
Excess Wear and Use
Guaranteed Auto Protection
While you don't have to add these plans to your lease agreement, they could be very beneficial. If at any point your ES 350 requires major repairs, these protection plans will ensure that you're covered.
Once your lease plan is all written out, you just need to sign some paperwork. Then, that's it! We'll put the keys in your hands, and you'll get to drive home in a shiny new LEXUS ES 350.
ABOUT THE REFINED LEXUS ES 350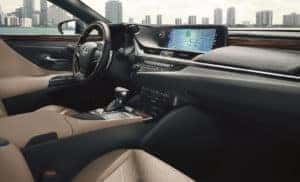 As a luxury midsize car, the Lexus ES 350 has the space and style that you'd want in an automobile. Top-notch materials fill the cabin, from standard NuLuxe seating to optional genuine wood accents. Plus, heated and ventilated front seats are available, helping you stay comfortable, no matter the temperature outside.
Five people can comfortably fit inside this vehicle, as it has 41.9 inches of front legroom and 40 inches of rear legroom.
Plus, with 15.2 cubic feet of cargo room, you can fit shopping bags, luggage, and other essential items inside the vehicle. A power trunk is available, too. With this feature, you can use buttons on the key fob, steering wheel, or trunk lid to open and close the trunk to be on your way as soon as possible.
LEASE A LEXUS ES 350 TODAY
If you'd like to lease a Lexus ES 350 near Bedford, Manchester, or Merrimack, we can help! To get started, just CONTACT US at Ira Lexus of Manchester. You'll then be driving around in a great luxury automobile in no time.