Lexus RX 350 Exterior

While it's important to have in-vehicle features that you're happy with, the exterior doesn't have to be forgotten. Since you're making all kinds of trips around Bedford, Manchester, and Merrimack, why not arrive at your destinations in style?
It's also important to have a vehicle that's easy to drive around, which can be done with a midsize SUV. One such car you could consider is the 2019 Lexus RX 350 for its nice size and design.
We'll cover these aspects of the vehicle in our Lexus RX 350 exterior review. Then, you can contact Ira Lexus of Manchester to see this automobile in person.
Standard Exterior Size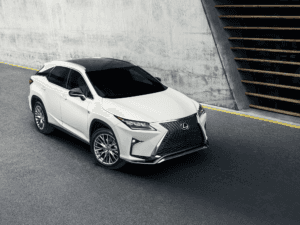 With the 2019 Lexus RX 350 being a midsize SUV, you get to enjoy a nicely-sized vehicle that maneuvers easily around town. This is evident through the following exterior dimensions:
Length: 192.5 inches
Width: 74.6 inches
Height: 67.7 inches
Wheelbase: 109.8 inches
The vehicle's size certainly helps you navigate your way around city streets, parking lots, and more. However, the car's technologies can help you do that as well.
One such useful feature is the available Panoramic View Monitor. It gives you a bird's-eye view of your surroundings. As a result, you can spot an oncoming car or another obstacle right away—making things as convenient for you as possible.
2019 RX 350L Exterior Size
The RX 350L is the 3-row version of this Lexus SUV. As such, the dimensions vary a little.
The width and wheelbase remain the same, at 74.6 inches and 109.8 inches, respectively. However, the height and length vary a bit.
This trim stands at 67.3 inches tall, making it a little shorter than the RX 350. However, the length is extended quite a bit, at 196.9 inches. This provides additional room for seven people, as opposed to five in the standard model. Yet, the vehicle can still handle quite nicely wherever you go.
Exterior Design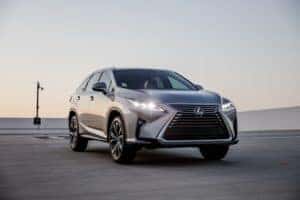 Whether you opt for the RX 350 or RX 350L, you'll have a vehicle that makes a bold statement from its exterior design.
A floating roofline and sharp lines may be the first things you notice. It could also be the angular cut of the front grille. If you catch this vehicle on the road at night, though, it could just be the available Triple-Beam LED headlamps that you notice at first.
These lights have a 3-projector design in an L shape that quickly catches the eye. Plus, they're an immense help when you're driving in the dark.
Move to the back of the vehicle, and you'll find wraparound LED taillamps. Not only do they have a unique look to them, but they help make the vehicle's presence known on the road.
F SPORT Appearance
Then there's a third version of the Lexus RX 350 that you could get, which is the F SPORT. This sportier version of the vehicle shares many of the same exterior design elements as the other two trims. However, it has its own characteristics that truly make it stand out.
For example, you'll find a more prominent front bumper in the front of this automobile. There's F SPORT badging, as well, along with signature upper and lower grille inserts.
Furthermore, you'll find electrochromic outside mirrors. They look cool while serving a purpose. The electrochromic, or auto-dimming, feature actually helps reduce glare from any bright lights behind you—making it easier to focus on the road ahead.
Finally, you'll have lots of unique body colors to choose from. With options like Matador Red Mica and Ultra White, you can have an SUV that fully suits your personality.
Take a Look at the 2019 RX 350
While reading about the 2019 Lexus RX 350 exterior is helpful, seeing it in person can better determine if the vehicle is right for you.
Contact Ira Lexus of Manchester for an up-close look at this SUV and to test drive it near Bedford, Manchester, and Merrimack today!