LEXUS RX 350 HORSEPOWER

---
The 2022 Lexus RX 350
is a strong SUV that can easily get you around Bedford, Manchester, and Merrimack. It stems from the engine with its impressive horsepower and torque ratings.
We'll give you those numbers below, along with the vehicle's other performance specs. Learn all about the Lexus RX 350 horsepower and more. Then contact Ira Lexus of Manchester to see the luxury automobile in person.
---
​
WHAT ALL THESE NUMBERS MEAN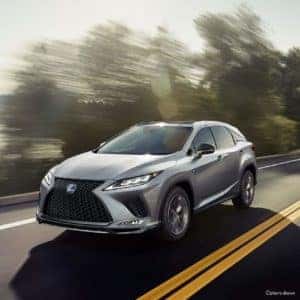 When you start looking for a new vehicle, you'll likely see a lot of numbers being thrown around. While you may just think the higher the number, the better the vehicle, and you'll often be right, we believe in making sure you're fully informed when you come by for a test drive.
We'll go over some common specs so you know exactly what we're talking about when we go in depth.
Horsepower: This refers to the power your engine puts out and is correlated to performance. This is calculated through the power needed to move 550 pounds one foot in one second, or 33,000 pounds one foot in one minute.
Torque: This is a twisting force, and the number you see in specifications refers to how much twisting force is available when your engine exerts itself. This can help you figure out work performance like towing.
Fuel Economy: This is an easy one, and it refers to how many miles you can get on a single gallon of gas. The highway measurement typically doesn't include stops, while the city measurement takes into account idling time such as stop lights or traffic.
Drivetrain: This refers to which axle engine power goes to when the SUV is turned on. A forward-wheel drive means that power only goes to the front axle, while all-wheel means power goes to both the front and rear axle.
To break it down a little bit further, the general rule of thumb is that horsepower equates to speed, while torque equates to towing power—higher horsepower, higher top speed; higher torque, more towing power.
LEXUS RX 350 HORSEPOWER
Now that you have a baseline understanding of what all the numbers we're about to get into mean, let's talk about the 2022 Lexus RX 350. This luxury SUV comes with a 3.5L V6 engine that delivers 295 horsepower. What this means for you is the following acceleration rates measured from 0 to 60:
7.7 Seconds with Standard Forward-Wheel Drive
7.9 Seconds with Available All-Wheel Drive
Top Track Speed of 124 MPH
The vehicle's valvetrain features an innovative dual Variable Valve Timing with intelligence (VVT-iW) system. This gives you a precise engine performance while reducing emissions and enhancing fuel efficiency.
Plus, VVT-iW monitors the engine's speed and load, increasing torque at lower speeds to improve acceleration. It'll also adjust the intake and exhaust valve timing to boost performance at higher speeds. Overall, this system will increase horsepower and give you straight-line stability. The result is an experience on the road that you won't soon forget.
LEXUS RX 350 TORQUE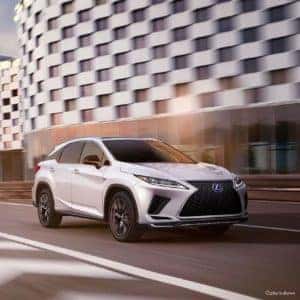 Now that you know about speed, what about power? The 2022 Lexus RX 350's 3.5L V6 powertrain offers 268 lb-ft of torque. What does this mean for you? A maximum available towing capacity of 3,500 pounds when properly equipped. This means you can bring along some of your favorite outdoor toys for some fun in the wilderness, like:
A Couple of Jet Skis
A Utility Trailer with a Couple Snow Mobiles
Lightweight Travel Trailer
LEXUS RX 350 FUEL ECONOMY RATINGS
In addition to offering lots of power, THE 2022 RX 350 is very fuel-efficient. It achieves an EPA-estimated 20 city/27 highway MPG with the standard front-wheel drive model. If you decide to get the all-wheel drive model, you'll have an EPA-estimated 19 city/26 highway MPG.
These numbers are impressive, with lots of features that contribute to the SUV's efficiency.
One of those features is Drive Mode Select, which comes standard on the automobile. It lets you choose between three settings, including ECO mode. With this mode, three things are moderated:
Throttle Response
Engine Power Output
Climate Settings
As a result, you get an increase in fuel efficiency, so you can make all kinds of trips before needing to stop and refuel.
LEXUS RX 350L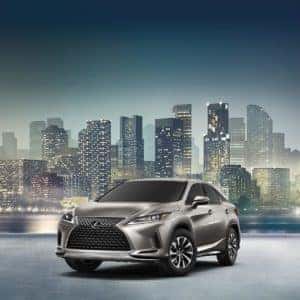 But what if you need more space? Then you're in luck! The 2022 Lexus RX 350 has a long model that comes with an extra row, the 2022 Lexus RX 350L. It has the same 3.5L V6 engine as the standard models, but the extra weight from the third row does affect the engine specifications a bit:
290 Horsepower
263 Lb-Ft of Torque
EPA-Estimated 19 City/ 26 Highway with Front-Wheel Drive
EPA-Estimated 18 City/ 25 Highway with All-Wheel Drive
Since there's more weight to pull with an entire extra row, your acceleration rate is altered a little bit. If you have the standard front-wheel drive, you'll be able to go 0 to 60 in 7.9 seconds. If you decide on the available all-wheel drive, then you'll have an acceleration rate of 0 to 60 in 8.1 seconds.
On the whole, no matter if you go with the standard model or the long model, you'll have incredible power, speed and handling.
GENERAL PERFORMANCE SPECS
There are two other settings in Drive Mode Select that you can take advantage of. One of them is Sport mode, which adjusts the powertrain for a faster throttle response and increased steering feel. Then there's Normal mode, which gives you that nice blend of engine performance and fuel efficiency, for a great everyday performance.
If you get the RX 350 F SPORT, you'll have the Sport S+ mode. This one adds enhancements to the steering and suspension system. With these augmentations, you'll get a very high level of responsiveness.
The F SPORT also comes with an Adaptive Variable Suspension system. With this feature, the vehicle provides thrilling handling, a smooth ride, and linear steering feel. So, in the end, you can zoom around town with ease and enjoy the experience immensely behind the wheel.
---
SEE HOW POWERFUL THE 2022 LEXUS RX 350 CAN BE
Now that you know what the Lexus RX 350 horsepower is, it's time to get a feel for it yourself!
See what kind of power this SUV produces with a test drive at Ira Lexus of Manchester. We'll get you behind the wheel and have you cruising around Bedford, Manchester, and Merrimack before you know it! CONTACT US TODAY!
---