Lexus RX 350L Lease
If you've been searching for a luxury midsize SUV near Bedford, Manchester, or Merrimack, the RX 350L is certainly a viable option. That's because it offers a blissful ride while also providing lots of room for you and your family.
Then, if you want this model for just a few years, you could always lease it. Below, we'll tell you a bit about the vehicle and how you could get a Lexus RX 350L lease at Ira Lexus of Manchester.
Keep reading to learn more, and don't hesitate to contact us if you have any questions.
ABOUT THE LEXUS RX 350L
With the LEXUS RX 350L, you get a highly stylish cabin with tons of features and room for seven.
The second-row seat slides forward, giving you easy access to the third row. Plus, with the 60/40 split-folding second-row and 50/50 split-folding third-row seats, you can fit as many people and items inside the vehicle as you want.
Leatherette seating comes standard, while leather upholstery is available. Not only do these seats offer lots of style and comfort, but you can get them with heating and ventilating systems, as well. So, no matter what the temperature is like outside, you can easily adapt with just the touch of a button.
Furthermore, there are lots of cutting-edge technologies to take advantage of, like the available Lexus Enform™ App Suite. Download various mobile apps onto your smartphone, then plug that into the vehicle's USB port. You can then complete tasks like checking fuel prices or keeping tabs on sports scores without needing to touch your phone while driving.
BENEFITS OF LEASING A LEXUS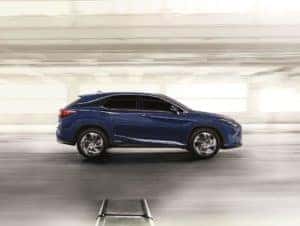 While the RX 350L is impressive, you may wonder about the benefits of leasing one, as opposed to buying one.
Leasing lets you enjoy a new ride every few years. If you thrive in playing with the latest in-vehicle technologies, then you may want to think about getting a lease.
Additionally, since you're getting a brand-new car for a short time, it's often still under warranty. This means you'd be covered for any unexpected repairs. You also would probably not have to get any parts replaced. As long as you get oil changes, tire rotations, and other maintenance when needed, you should be good to go.
Finally, leasing gives you the opportunity to get a feature-rich luxury model. The monthly payments are often lower than if you were to buy a car, because you're only paying off the depreciation. The initial down payment is often lower, as well. As a result, you could get a car like the RX 350L with all the bells and whistles, while still sticking to your budget.
HOW TO LEASE THE RX 350L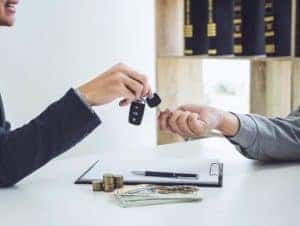 If you decide that leasing the RX 350L is right for you, we can help you go through the process.
First, you'll want to visit our FINANCE CENTER to speak with a member of our team. They'll cover every part of your lease agreement, including whether any Lexus RX 350L lease deals are available.
We'll also help you pick out a mileage package that works for you. If your daily commute is on the shorter side, then 10,000 miles a year would work. Otherwise, you may want to opt for 12,000 or even 15,000 miles a year—depending on work, vacations, and other factors.
Furthermore, we'll go over the various vehicle protection plans that you could add to your lease. These are optional but could protect you for a variety of auto services.
Once we have the entire lease agreement laid out, you'll simply need to provide a signature. We'll then happily hand over the keys and have you driving home in a brand-new Lexus RX 350L before you know it!
LEASE A LEXUS RX 350L TODAY
At Ira Lexus of Manchester, we want to help make the leasing process as simple as possible for you. That's why we have a team of experts to guide you through each step of the procedure.
If you're interested in a Lexus RX 350L lease, then don't wait. CONTACT our dealership near Bedford, Manchester, and Merrimack today!