Lexus RX vs GX

---
Picture driving through downtown in rush hour. Weaving around Bedford, Manchester, and Merrimack, New Hampshire. Loading up the back with luggage. Changing gear and driving far away from the clamor of the city.
To get the most out of your work and play, you need an SUV with superior engine design, gas mileage, and luxury innovation.
Here at Ira Lexus of Manchester, we've put together this brief comparison of the Lexus RX vs. GX to help you see which SUV suits your lifestyle. Continue reading to learn more before browsing our new Lexus RX and Lexus GX inventory online! Or stop by for a visit to take a look at these powerful beauties in person!
---
​
Lexus RX vs GX: Top-Notch Engine Performance
When looking for an SUV to go the extra mile, you're in good hands with the powerful standard engines of both the RX and GX:
| | |
| --- | --- |
| 2022 Lexus RX Engine Specs | 2022 Lexus GX Engine Specs |
| 3.5-liter V6 engine | 4.6-liter V8 engine |
| 295 horsepower | 301 horsepower |
| 268 lb-ft of torque | 329 lb-ft of torque |
These standard engines pack a punch with the Lexus GX, offering just a little bit of an extra kick in speed and power.
But despite how close their horsepower specs are, the RX still gives you a faster drive overall. Rip around the streets with the top speeds of 124 MPH on the RX, while the GX peaks at 110 MPH.
Lexus RX vs GX: MPG Ratings
Along with their superior engine performances, you'll be able to conserve your gas tank and the environment. When we compare the impressive EPA-estimated MPG ratings for the Lexus RX vs. GX, we see efficiencies you're sure to love:*
| | | |
| --- | --- | --- |
| | Lexus RX | Lexus GX |
| EPA-estimated City MPG | 20 MPG | 15 MPG |
| EPA-estimated Highway MPG | 27 MPG | 19 MPG |
| EPA-estimated Combined MPG | 23 MPG | 16 MPG |
While the RX has a higher gas mileage estimate, it's worth noting that this is in part because of the front-wheel drivetrain (FWD), which uses less gas. Meanwhile, the GX comes only in full-time four-wheel drive (4WD), offering lower estimates but better control on all terrains.
However, for the highest EPA-estimated gas mileage, enjoy the RX's optional hybrid engine with all-wheel drive and:
31 city MPG
28 highway MPG
30 combined MPG
What are you looking for in your drive: higher gas mileage or more control over the wheels?
---
RX vs GX: Body Build
You can learn a lot about an SUV from the way it's shaped, so how does the base design of the Lexus RX hold up vs. Lexus GX?
Exterior Dimensions
Both SUVs are built for speed and powerful performance, as we can see just by their bulk:
| | | |
| --- | --- | --- |
| | Lexus RX | Lexus GX |
| Length | 192.5 in. | 192.1 in. |
| Width | 74.6 in. | 74.2 in. |
| Height | 67.7 in. | 74.2. in |
| Wheelbase | 109.8 in. | 109.8 in. |
They come in similar sizes, but the lower height of the Lexus RX leaves it closer to the ground, and its curved design makes it more aerodynamic. These are useful features when weaving in and out of traffic on the highway.
The Lexus GX, meanwhile, relies on its sturdy bulk to command presence on the road and hold steady above the ground for a superior off-road experience.
Interior Dimensions
Get ready for a cabin so spacious you feel like you're melting into it.
| | | |
| --- | --- | --- |
| | 2022 Lexus RX | 2022 Lexus GX |
| Headroom: first row/second row/third row | 39.4 in./39.1 in./n/a | 38 in./ 40.4 in./35.2 in. |
| Legroom: first row/second row/third row | 44.1 in./38 in./n/a | 41.7 in./34.1 in./29.3 in. |
| Shoulder Room: first row/second row/third row | 57.8 in./57.6 in./n/a | 55.4 in./57.3 in./54.5 in. |
| Cargo Volume: behind first row/behind second row/third row | 16 cu. ft./32.7 cu. ft./n/a | 64.7 cu. ft./46.7 cu. ft./11.6 cu. ft. |
In the 2022 Lexus RX, enjoy the amenities of a standard spacious 2-row, 5-passenger SUV with plenty of room for your passengers to spread out.
Find three standard rows fit for seven passengers and bigger adventures on the GX. This extra row also offers an additional 11.6 cubic feet of cargo volume behind the rear seats: perfect for taking along enough camping gear to last the weekend.
For extra passenger comfort, opt for the wide dimensions of the Lexus RX. For extra passengers and space for the cargo you need for your off-the-trail adventures, the Lexus GX is the SUV for you.
Trim Levels
There's plenty of variety to explore. In total, the RX features six trims and four special editions, some offering an optional third row to seat a total of seven passengers.
The GX has three trims and one special edition of the same build.
With these options, both SUVs are full of possible design customizations.
---
Lexus RX Drive Mode vs Lexus GX Multi-Terrain Select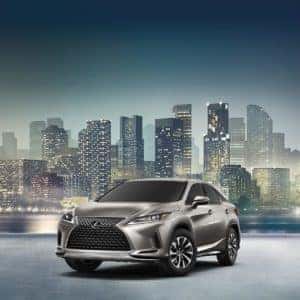 In choosing between the RX vs. Lexus GX, it all comes down to which set of wheels is more important in the SUV you invest in: everyday maneuverability or superior off-road performance.
The maneuverability of the RX is highlighted through the various drive modes in Drive Mode Select. Adjust your drive to your tastes, such as using the optional Sport S+ mode when you're ready for a sporty feel and hybrid mode when you're ready to conserve your gasoline and environment.
The 2022 Lexus GX, meanwhile, is an extreme off-roading machine that you can take full advantage of with the optional Multi-Terrain Select feature. You can choose from multiple settings for various surfaces, including:
Loose rocks
Mud
Sand
Mogul
Have fun kicking up dirt on those weekend off-road excursions with the power of the GX!
---
Take One for a Spin and Schedule a Test Drive Today
There's plenty in the 2022 Lexus RX vs. the GX to attract the eye when you spin one through Bedford, Manchester, and Merrimack, NH.
Still unsure which to choose? Schedule a test drive at Ira Lexus of Manchester today to feel them out! We look forward to meeting you!
* Projected EPA-estimated MPG ratings determined by manufacturer. EPA estimates not available at time of publishing. Use for comparison purposes only. Your mileage will vary for many reasons, including your vehicle's condition and how/where you drive. See www.fueleconomy.gov.
---