Synthetic vs Conventional Oil

Motor oil is what helps keep the engine lubricated and cool. This is so the car will run, and you can easily drive around Bedford, Manchester, and Merrimack. There are two common types of engine oil out there today: synthetic and conventional.
Each has its benefits, and understanding these can help you make the best decision for your car's performance. Learn all about synthetic vs. conventional oil, and see where you can go to 
SCHEDULE YOUR NEXT OIL CHANGE
 in the Bedford, NH, area.
WHAT IS CONVENTIONAL OIL?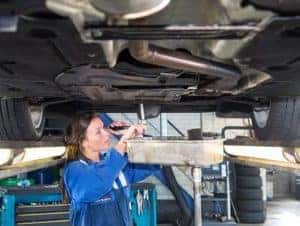 Conventional motor oil is derived directly from crude oil. It has properties that provide lubrication at higher temperatures, along with maintaining stability over long periods of time.
For decades, conventional oil was the only option for an automobile. While that isn't the case anymore, this type of oil is still recommended for most cars, especially ones that have less than 5,000 miles on the odometer. This is known as a "break-in period," for automobiles that are straight off the assembly line. If you introduce synthetic oil too early, it may decrease the car's performance.
WHAT IS SYNTHETIC OIL?
Like conventional oil, synthetic oil stems directly from petroleum. Unlike conventional, however, it consists of a special, blended formula that was developed by researchers in a lab environment. The oil gets distilled and purified, and then broken down to its most basic molecules. This process removes more impurities from the crude oil, and allows individual molecules in the oil to fit the demands of more current engines.
BENEFITS OF EACH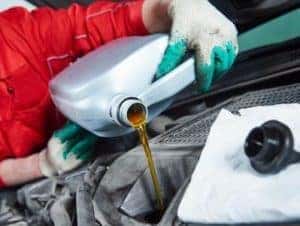 There are different benefits to using each type for an 
OIL CHANGE
. The biggest benefit of conventional oil is its cost. If you get a conventional oil change for your vehicle, you'll be paying about half as much as you would be for a synthetic oil change. It's also the most common type of oil, and can be used on a variety of automobiles. For example, if you have a light-duty, late-model vehicle with low mileage and a simple engine design, then it'll benefit greatly from conventional oil.
Although synthetic oil is expensive, it outperforms conventional oil because of its chemical composition. It doesn't break down as easily as conventional oil, so it'll last much longer. While you may need an oil change every 5,000 miles with conventional, you could go as long as 10,000 or even 15,000 miles before needing a synthetic oil change.
Furthermore, synthetic oil was engineered to maintain its thickness at higher temperatures, which will help prevent engine wear. It also flows better in extremely cold temperatures, which will make it easier to start the engine during the winter months. If you have a high-performance car, use your vehicle for heavy towing and hauling, or live in extremely hot or cold climates, then synthetic oil may be ideal.
CALL IRA LEXUS OF MANCHESTER TO SCHEDULE AN OIL CHANGE
IF YOU'RE STILL UNDECIDED BETWEEN SYNTHETIC VS. CONVENTIONAL OIL FOR YOUR CAR, THEN CONTACT US AT THE 
IRA LEXUS OF MANCHESTER SERVICE CENTER
. OUR TECHNICIANS HAVE YEARS OF EXPERIENCE PERFORMING OIL CHANGES ON VARIOUS AUTOMOBILES. THEREFORE, THEY CAN DETERMINE WHICH ONE WILL HELP ENHANCE YOUR VEHICLE'S PERFORMANCE AROUND BEDFORD, MANCHESTER, AND MERRIMACK. DON'T WAIT. CONTACT OUR SERVICE CENTER TODAY!