Top Yoga Studios Manchester NH
Yoga has become one of the most practiced forms of physical fitness in the recent years. It's drawn a lot of attention because not only does it help with weight loss, flexibility, and endurance, but it also has a therapeutic effect that adds a sense of calming tranquility to each session. The Manchester, NH, area has a lot of yoga studios, but if you're looking to switch spots or you're getting started, let us help. We took a look around the city and picked out our favorites.
Here's our list of the top yoga studios near you in Manchester, NH!
KAMA FITNESS
55 South Commercial Street, Langer Mills, Manchester, NH
FACEBOOK
  |   
INSTAGRAM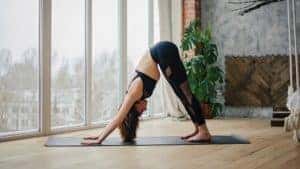 If you're looking to have fun with your workout, head to 
KAMA FITNESS
 on Commercial Street. The word "Kama" translates to "enjoyment from activity" which is what the instructors aim for with every class. This studio specializes in aerial workouts in varying forms, such as flow and restorative yoga, where you are suspended from the ceiling to allow for fluid movements. While you're not suspended high, there are other forms of on-land fitness like dance, ballet, barre, and pilates that you can take all under one roof!
PELLE FITNESS
159 Frontage Road, Manchester, NH
FACEBOOK 
  |   
INSTAGRAM 
The best way to achieve the body and results you want without having to run for miles on end is including a variety of styles into your regimen. At 
PELLE FITNESS
, you'll have plenty of options because they teach several different styles and forms. You can stop in for some hot yoga, Zumba, and barre, or you can push yourself with HardCORE 360. This class is only 45 minutes long and focuses on intense workouts that concentrates on your upper and lower abdominals, obliques, back, and hips to help you burn fat and strengthen your core.
ZIN-ZEN YOGA
126 South River Road, Bedford, NH
FACEBOOK 
 |   
INSTAGRAM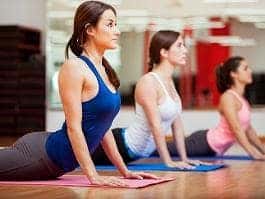 At 
ZIN-ZEN YOGA
, they focus on perfecting the forms and styles of yoga and spreading the knowledge with their classes. The instructors are passionate about yoga in all its forms and thoroughly enjoy teaching others. They offer a plentiful mix of classes from core yoga flow, gentle flow, hatha yoga, and Vinyasa flow. They even have yoga & mimosas on Sunday mornings, where you can get your early workout in and relax with a glass of bubbly and OJ!
When you're ready to embark on your yoga journey, any of these top yoga studios near you in Manchester can help you along the way.