Valentine's Day Restaurants Near Me Manchester NH
One of the most important steps towards planning the perfect Valentine's Day is choosing the right restaurant. Getting your flowers, chocolates, and gifts are important; however, dinner is the perfect end to the holiday, so you'll want somewhere special with great food, a romantic ambiance, and great service. We did some research and found the best Valentine's Day restaurants near you in Manchester, MA.
Keep reading to see where you should reserve a table for your Valentine's Day dinner.
HALE STREET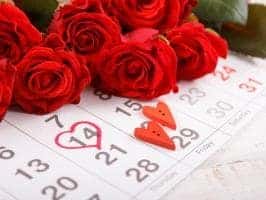 717 Hale Street, Beverly Farms, MA   
FACEBOOK 
If you're looking for a great place to eat with a veritable selection of seafood spanning from oysters on the half shell to actually sushi rolls, you may want to give 
HALE STREET
 a try. This quaint neighborhood spot provides some great options, a comfortable atmosphere, and a vast selection of cocktails and spirits for you to choose from. They've got great starts like Brussels & Bacon or Scampi-style Mussels to get you excited for entrees like Free Range Chicken Picatta, Pan-Seared Salmon, or even Jambalaya.
THE HARDCOVER
15A Newbury Street, Route 1 North, Danvers, MA   
FACEBOOK 
There's nothing like a steakhouse to really make the evening special. 
THE HARDCOVER
 in Danvers specializes in carefully aged steaks that provide a great flavor and texture with each tender bite. Their dining room provides a warm and romantic ambiance that you can enjoy while dining on great appetizers like scallops wrapped in bacon or even the Seafood Sampler for two. Then, you can work your way up towards the land options, such as Prime Top Sirloin, Rib Eye, T-Bone, Filet Mignon, among many other cuts and flavors to choose for the perfect Valentine's Day dinner.
NINE ELM
9 Elm Street, Danvers, MA    
FACEBOOK 
Contemporary bistros are a great option to choose for your Valentine's Day dinner because there's usually great menu options and a stylish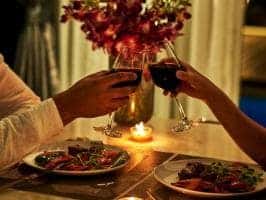 and sophisticated atmosphere to enjoy while you dine. 
NINE ELM
 in Danvers could be your spot. They have an impressive cocktail menu that utilizes some interesting ingredients mixed with high-quality spirits.
After getting your hand-crafted cocktail, get started on exploring the menu. You've got plenty of appetizers to choose from before settling into your entrée. They've got choices like Cider-Brined Pork Chops, Pan-Roasted Duck Breast, and Pan-Seared Scallops that you'll enjoy before choosing a dessert like White Chocolate Bread Pudding, Vanilla Bean Crème Brûlée, or even Lemon Tart to complete your evening.
Are you having trouble choosing the right restaurant to go to for your Valentine's Day dinner? The restaurants listed above come highly rated in terms of quality, food, and service. Make your reservation soon before these great restaurants near you in Manchester get all booked up on Valentine's Day.